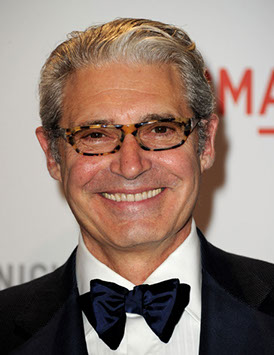 Michael Nouri Biography
Michael Nouri is beginning his fifth decade in film, theatre and television. He recently co-produced and starred in the movie "The Squeeze", appeared in the critically acclaimed NBC miniseries
"The Slap", US TV series "Heartbeat", "Blue Bloods" opposite Tom Selleck and can be seen in an upcoming movie "Woman Walks Ahead" (2017) starring Jessica Chastain, Discovery's excellent "Manhunt: Unabomber" (2017) opposite Chris Noth, TV series "Yellowstone"(2018) starring Kevin Costner and "The Assassination of Gianni Versace: American Crime Story" (2018) opposite Ricky Martin and Penelope Cruz.
His first professional acting job was in the box-office hit "Goodbye Columbus" (1969). Soon afterward, Nouri made his Broadway debut in the hit play "40 Carats" (1968-1970) opposite Julie Harris.
In the course of his distinguished career, he has appeared in such popular films as "The Proposal" with Sandra Bullock, "Last Holiday" with Queen Latifah, Steven Spielberg´s "The Terminal" with Tom Hanks and Catherine Zeta-Jones and of course, the iconic film "Flashdance".
Nouri had the honor of portraying Joe DiMaggio in Billy Crystal´s "61". He joined Sean Connery in the hit film "Finding Forrester". He received the Best Actor Award at the Avoriaz Film Festival for his performance in the cult hit "The Hidden".
Nouri worked with the legendary Lee Van Cleef in "Thieves of Fortune" and played Lt. Colonel Louis in the original 1990 "Captain America".
Nouri has starred on numerous prestigious television series including "Damages" opposite Glenn Close, "The Slap", "NCIS", "Without a Trace", "CSI: NY", "South Beach", "Enterprise", "Cold Case", "The Practice", "The West Wing", "Law & Order SVU" and "Criminal Intent". His major recurring roles were on ABC's popular show "Bay City Blues", "Downtown", "Love and War", "The Young and the Restless" and "Brothers and Sisters". He played Caleb Cortlandt in "All My Children", Dr. Neil Roberts in "The O.C" and sang the closing theme song for CBS's long-running show "Search for Tomorrow" for which he received an Emmy nomination as Outstanding Actor in a Daytime Drama Series.
Among his favorite roles is Lucky Luciano in popular NBC series "The Gangster Chronicles", the title role of "The Curse of Dracula" and portraying his hero and his friend Charlie Wedemeyer in the television film "Quiet Victory".
Blake Edwards cast Nouri in the leading role opposite his wife Julie Andrews in the Broadway musical "Victor Victoria" (1995 - 1997). He also starred in
"Can Can" (2004) opposite Patti LuPone for the Encores series at City Center. Nouri played Rodin in the Goodspeed Theatre production of "Camille Claudel" (2003) opposite Linda Eder. His favorite musical experience is "South Pacific" (2001) in which he played Emile de Becque opposite Erin Dilly in the seven-month national tour following 9/11. Following each performance the audience joined the cast singing "God Bless America".
"The most rewarding experience of my career."
Michael Nouri serves as ambassador for Seeds of Peace, the Multiple Sclerosis Society and enjoys mentoring inner-city kids who think they want to become actors. My advice to them is: "Don't! If they ignore my advice they have a chance!"